Tanghalang Ateneo Middle Finger Preview Night
Is Ateneo your Alma Mater? Get involved! Show your support by watching their plays! And you're in luck! Tanghalang Ateneo, the official theatre group of Ateneo in their 36th season, is opening with MIDDLE FINGER. MIDDLE FINGER is a play where two young Filipino students in a Catholic school in America, attempt to find who they really are in the midst of an environment controlled by adults and social construct.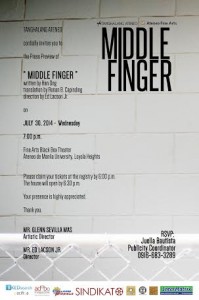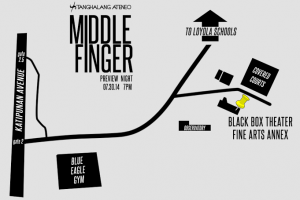 If you missed the preview night of Tanghalang Ateneo's Middle Finger, don't fret! You can still catch the shows on August 1 and 2, 4 to 9, 11 to 16, and 18 to 22, 2014. The play starts at 7pm! So head on down to Ateneo de Manila University in their Fine Arts Black Box Studio.
For more information, please go to their website: www.tanghalangateneo.org or their Facebook page: Facebook.com/TanghalangAteneo